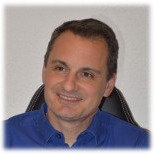 gab
postedan idea
Feb 27, 2019
Probably a "Forever Noob" in the video games development...
Mostly programmer, but interested in every function, and very happy to know new passioned people out there.
I have an atypical profile having worked for 20 years in the R&D of semiconductor industry.
But my passion always was learn development of video games.
Back in 1998 I wrote a sort of Naval Battle using Borland Delphi, that we could play at work over the network (but keep this for you:)
Then over the years discovered Unity (which was for me too complex in its early days), Mark Overmars's Game Maker (very user friendly), UE and Cryengine (both awesome but very hard to take over with just a couple of hours available here and there).
So I decided to give Unity a second chance, especially because of its impressive work on tutorials and learning material, and was (positively) impressed of the big step done by this engine.
Love to pass my passions to younger generations, and use video games development as an educational approach to STEAM (Science, Technology, Engineering, Arts and Mathematics)
Hope to get in touch soon